My youngest son turned 6 and because he is really into skylanders lately, I made skylanders themed cake for his birthday.
For his teachers and classmates, I planned to give out some cupcakes so that it was easier for the teachers to distribute them and they are mess-free. I did some research in the internet and found
templates
for 8 elements in skylanders. They are Magic, Earth, Water, Fire, Tech, Un-dead, Life and Air.
The cupcakes are white almond sour cream cake (WASC) with marshmallow fondant icing.
And for the birthday party, I made a skylanders portal from WASC cake with marshmallow fondant icing. To make it even special, I ordered edible image with skylanders themed (of course) and his photo on it. Not to forget, the eight elements to go around the portal.
To see his reaction when he found out that there was his photo on the birthday cake was priceless!
Here I share the WASC recipe. This cake is so moist and easy to make. Perfect to go with fondant icing.
White Almond Sour Cream Cake (WASC)
originally created by Rebecca Sutterby
Ingredients :
2 boxes white cake mix
2 cups all-purpose flour
2 cups granulated sugar (I reduced the sugar into 1 cup because it was too sweet for me)
1 1/2 teas. salt
8 egg whites
2 2/3 cups water
4 Tbls. vegetable oil
2 cups (16oz carton) sour cream
2 teaspoon clear vanilla flavor
2 teaspoons almond extract
Instructions :
Mix all dry ingredients by hand using a whisk in a very large mixing bowl.
Add the rest of the ingredients and beat on low speed for 2 minutes. Bake at 325 degrees
* Notes :
- One recipe makes: one 14″ round + one 6″ round
or one 16″ round or one 12″ round + one 10″ round or one 12×18″ sheet cake or one 12″ round + one 8″ round + one 6″
- Half a recipe makes: two 8″ rounds or two 6″ rounds + 6 cupcakes
For the marshmallow fondant, You can find the recipe and video tutorial
here
.
And also for his birthday bento, I used some birthday decoration from All Things For Sale, here is the link :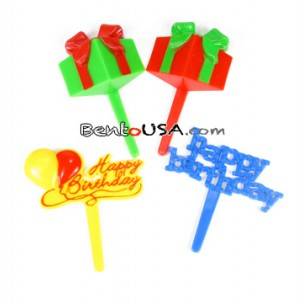 Inside the box, I prepared :
1. Ham and cheese mini croissant
2. Corn on the cob
3. Fish drumstick ( recipe
here
)
4. Quail eggs with salt and pepper
5. Strawberry yogurt for recess