This Bento is consists of :
1. Steamed rice with carved rose red radish & corriander leaf on top.
2. Chargrilled pepper stuffed with pork (recipe as below *).
3. Eggplant cooked with mince pork
4. Baby carrot
I used carving knife for the "rose" red radish. You may find carving knives here :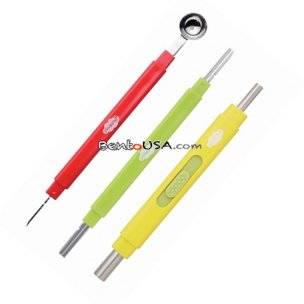 * I got this recipe from SBS TV cooking series by Luke Nguyen, "Greater 2 Mekong". It's Laotian recipe but I put a little bit adjustment in it.
Char-grilled Pepper Stuffed with Pork
Ingredients
3 lemongrass stems, white part only, chopped

4 red Asian shallots, sliced
2 red bird's eye chillies, sliced
500g (1 lb 2 oz) minced (ground) pork
1 tbsp caster (superfine) sugar
3 spring onions (scallions), finely sliced
1 handful chopped dill
4 makrut (kaffir lime) leaves, thinly sliced
1 tbsp fish sauce
2 tbsp padek (Laotian fermented fish sauce) or mam nem (Vietnamese fermented anchovy sauce) --> I replaced it with Belacan
4 large or 8 small yellow banana capsicums (peppers)


Preparation

Using a large mortar and pestle, pound the lemongrass, shallot and chilli to a rough paste. Add the pork, sugar and a pinch of sea salt and pound again. Add the spring onion, dill and lime leaves and pound well. Add the fish sauce and a little piece of Belacan and pound again.

Working from the top of each capsicum, slice down one side down to the stem, using a sharp knife. Remove the seeds by scraping them out with a small spoon, then discard. Stuff the capsicums with the pork mixture and set aside.

Heat a barbecue chargrill or chargrill pan to medium-high. Place the banana leaves on top of the grill to stop the capsicums burning. Chargrill the capsicums on top of aluminium foil for 7-8 minutes each side.
Ready to serve...